Snuffle Square - Tubs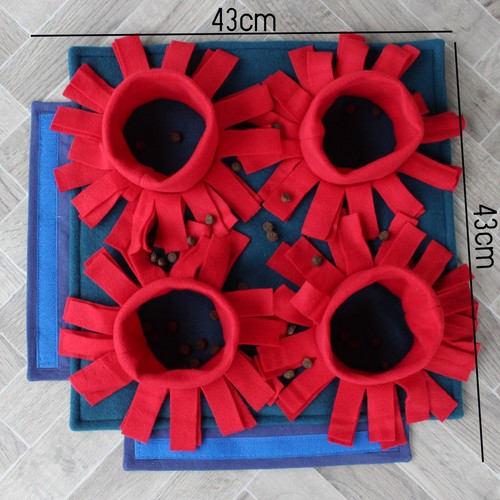 Measurements 
43cm X 43cm
Features
Engage your dogs mind.
Make meal time more fun. 
Make play for foody dogs by using treats and kibble.
Engage less food motivated dogs by incorporating the use of toys.
Connect the Tubs square to other enrichment squares from our range to create a bigger game board. 
Made in NZ.
How to use
Your pet can snuffle for treats through the folds of flared fleece. Split their dinner between the four tubs extend meal times. Up the game by adding your dog's favourite toys and balls to the tubs, they will have to remove these obsticles to reach their dinner. Hide treats under scrunched paper or toilet rolls to create an enriching game. 
Connect the Tubs square to other Snuffle Squares from oour range to create a bigger more elaborate enrichment game board. 
Washing
Cold machine wash and leave to dry. 
Materials
Fleece, canvas, velcro
Custom Colours
Available for purchase in either a randomly selected colour(s) or a customised colour(s). If selecting a custom colour please write the colours you would like in the commnets box at checkout or email us at loveonaleashnz@gmail.com
Custom colours may take a couple of weeks to arrive.