Play Quilt
Measurements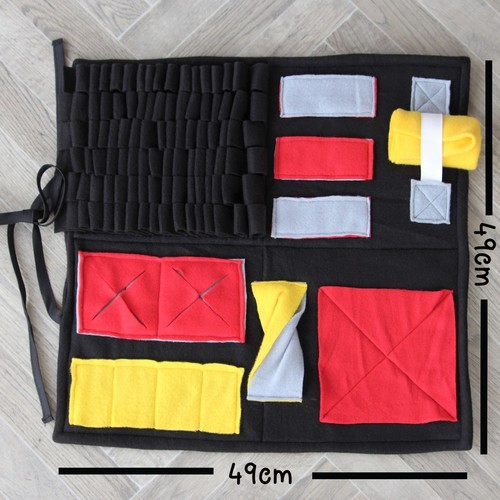 Dimensions - 49cm X 49cm
Features
7 activity stations - The snuffle matt, ladder, twist, flowers, tent, pocket, and roll  
Has a non slip backing to help limit slipping and sliding
Features a tie at one end which can be used to tie the quilt to an anchor e.g. table/chair 
Can roll up for easy storage
Made from fleece and non slip backing
To get the best use out of your play mat, stay with your dog and start off slow. Work your dog through each section, one at a time. Start easy and work on increasing the difficulty level. 
Keep it fun, if your dog becomes frustrated drop the difficulty or go back to an easier station. 
Always supervise your dog when playing with toys and games. 
Price is for one snuffle mattin random colours. 
See our blog post for info and introduction to the seven stations  Click here >>>Snuffle Quilt
For more info email us at loveonaleashnz@gmail.com