Lil' PUP Bone
Orbee-Tuff® Puppy Bones are just chewy enough to satisfy the need to gnaw, yet firm enough to maintain our famous Orbee-Tuff® durability. Rated 3 out of 5 chompers for moderate chewers. Available in puppy pink, puppy teal, or puppy purple. Two sizes suit all puppies. Lil' Pup Bones are 3.5" long, and Big Pup Bones are 5" long. 100% GUARANTEED. Any time. Every time. Made in the USA.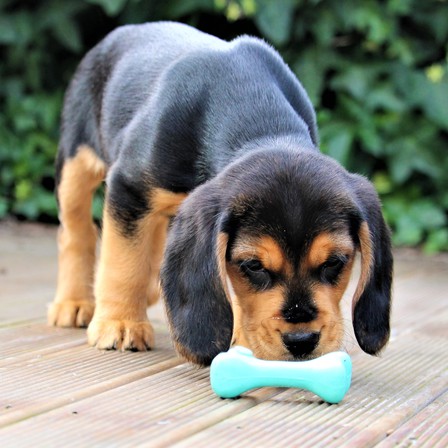 Mozart's Review
Mozart first got is chompers on this toy at 8 weeks old. The Lil' Pup Bone was nice and small and easily fit in his mouth, allowing him to happily trot around with his new toy. The bone was soft enough on his teeth and gums and did not make him grumble or moan as he chewed, unlike some of the other chews he had to hand. With a 3/5 chomper rating this toy is not indestructible, but it stands up nicely to young chompers. It is a perfect toy for distracting puppy when his teeth are aimed at you. As long as puppy is being supervised, this is a wonderful addition to the toy box for both puppy and you.
Made for puppies
Soft on teeth and gums but durable
3/5 chompers
Small enough for puppy to carry
Can be frozen
From Planet Dog. This is what they have to say:
We took our award-winning Orbee-Tuff® material and developed a special soothing formula just for growing pups. Durable enough to withstand the chewing habits of a teething pup, yet pliable enough to be gentle on their developing teeth. These puppy pleasers are especially soothing when frozen.
Lil' Pup Bones are 3.5" long